Our revolution is to produce the best beers and offer them at the maximum freshness 
CRAK was born as a sound of breaking with the past because buying our system was an epochal turning point for us. We opened the doors of our brewery in 2015, and since that day we have been doing what our Guerrilla beer urges us to do every day: fight for what we believe in because "everything is possible, you just have to find the right way to go with the means you have".
Since we are CRAK we have let creativity and the need to experiment guide us in the brewery to produce the best beers possible.
Breaking the rules, experimenting without limits and without fear of taking risks, both in the brewery and in the cellar, sharing ideas and insights even with professionals from the world of chocolate, coffee and spirits.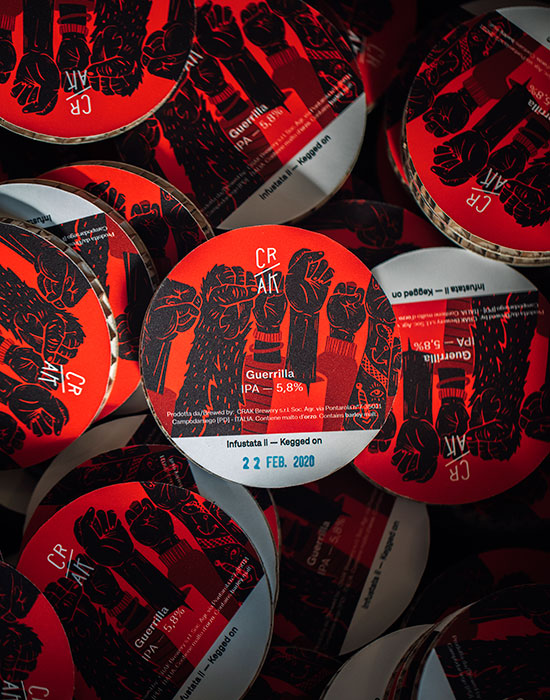 We are in love with hops. And we believe that to make great beers it is essential to specialize and focus on a specific way of drinking. For us, this means DDH IPA and IPA beers.
We were the first Italian brewery to personally go to Yakima Valley in 2017 to personally select the best hops during the harvest. This experience opened our eyes and pushed us to produce styles where hops best express their potential and characteristics, concentrating all our energies in the search for perfection on all fronts. Choosing personally the ones that for us are the best batches of each variety of hops, means finding in the beer that character that struck us, authentic and pure. A unique aromatic profile that reflects what we have sought and wanted for our beers. This uniqueness is given by the terroir: each batch of hops comes from different areas, and each batch of the same hop variety has incredibly different aromas despite being the same variety! The lot we choose will never be mixed with others, leaving its own identity intact, giving you the certainty that that aroma you feel is what we fell in love with, in all its freshness and uniqueness.
Barrel Aged Beers
Since the early days of our brewery, we have dedicated ourselves to experimenting and creating barrel-aged beers (Barrel Aged Beers), our Cellars. IGA, beers with fruit from our farm, Barley Wine, and all that can be a source of inspiration and experimentation.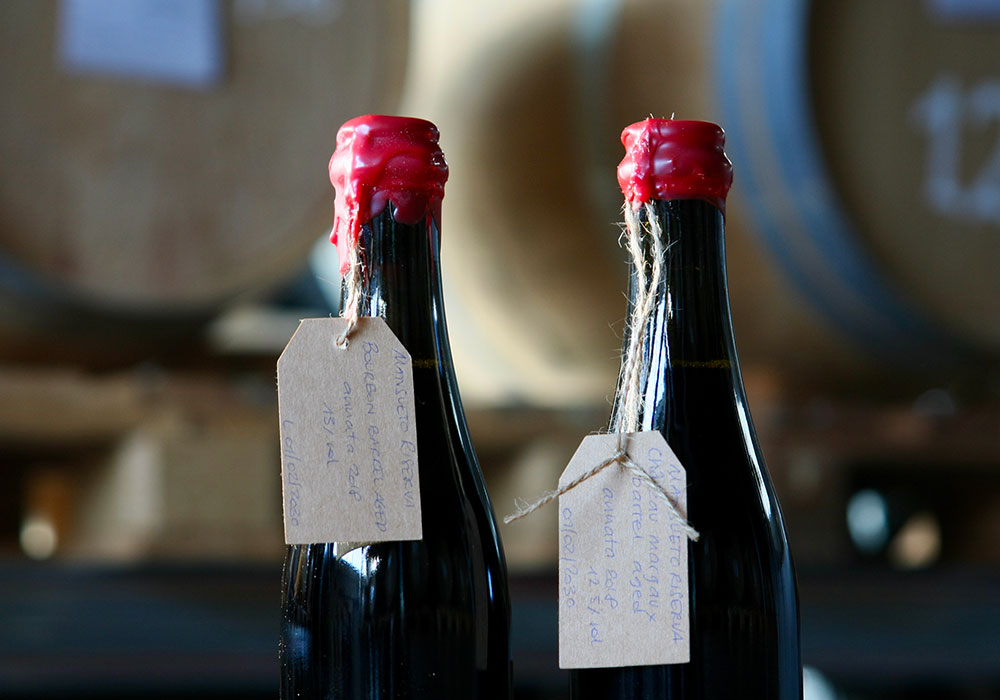 Value to the short supply chain
So that everyone can drink our beers at the highest quality and freshness and have full control of the entire supply chain, we have given up on intermediary distributors.
It is we who directly through our online shop, send our beers throughout Italy to the best-selected places and individuals, only with refrigerated transport. With this revolution, we have created a short supply agri-food chain, because we believe in a fairer, more transparent market, with fewer passages and intermediaries. A business that respects the needs of producers and consumers by bringing our beers of the highest quality and freshness to the best places and Italian homes.
We are a Farm
We have fields where we grow our barley, a hop farm, an apiary and an orchard: our Farm. Being a Farm Brewery for us means paying homage to our land and enhancing it because it is not just about "creating a product", but about the link between plants, territory, people and animals.
Shop on-line
spedizioni refrigerate in tutta Italia per Privati e Locali/ Pub
Buy online and pickup in Spaccio TapRoom